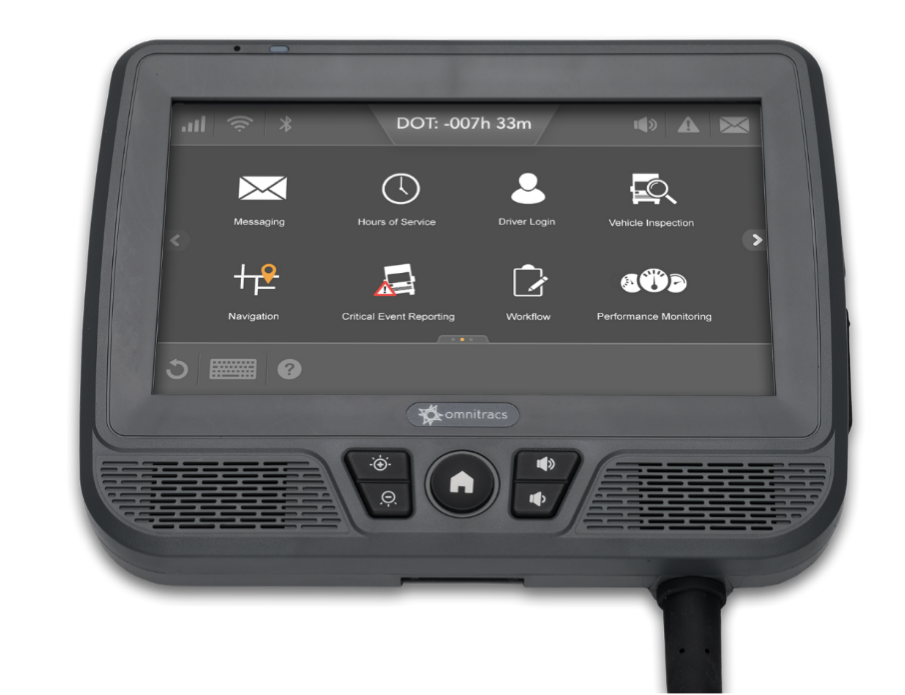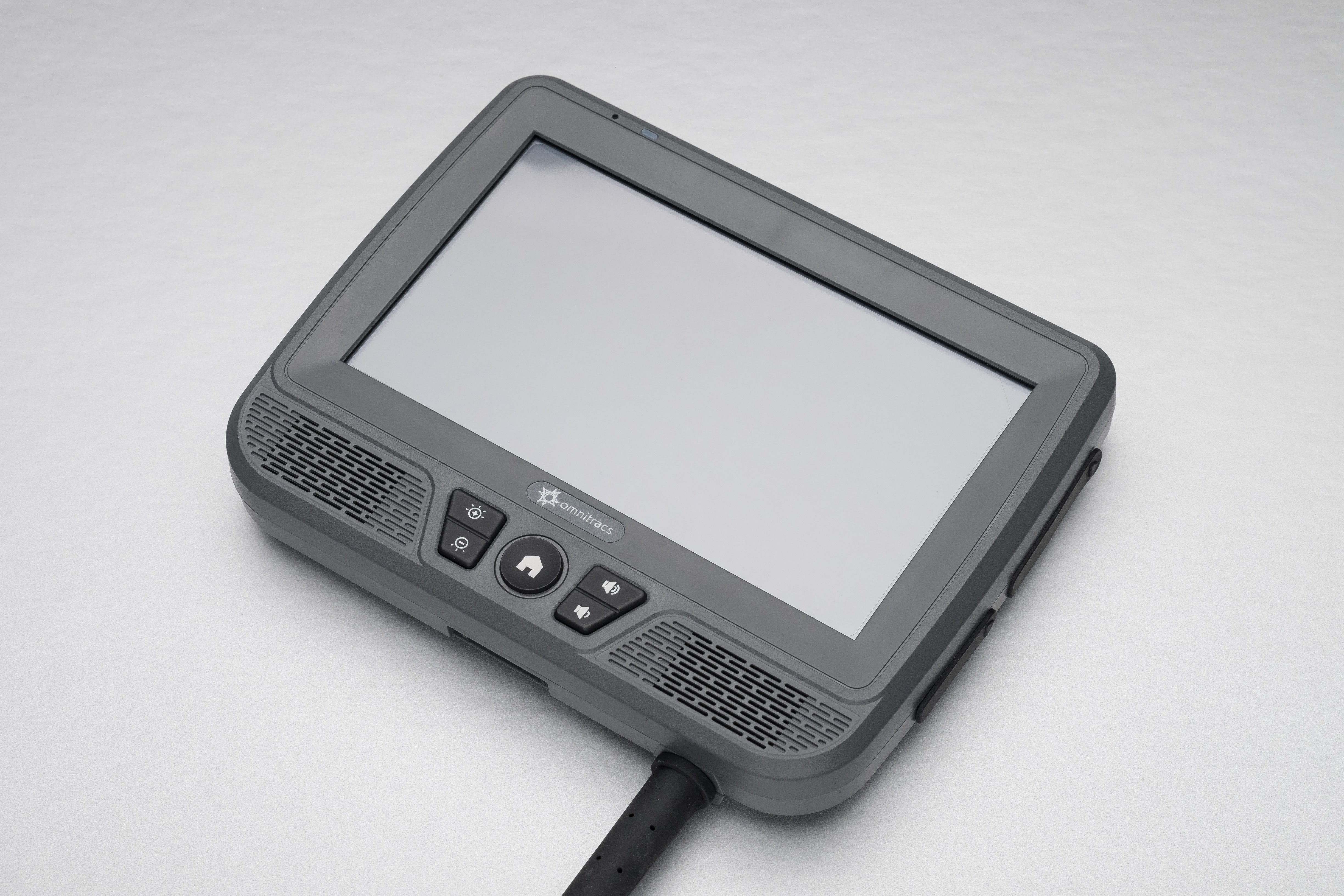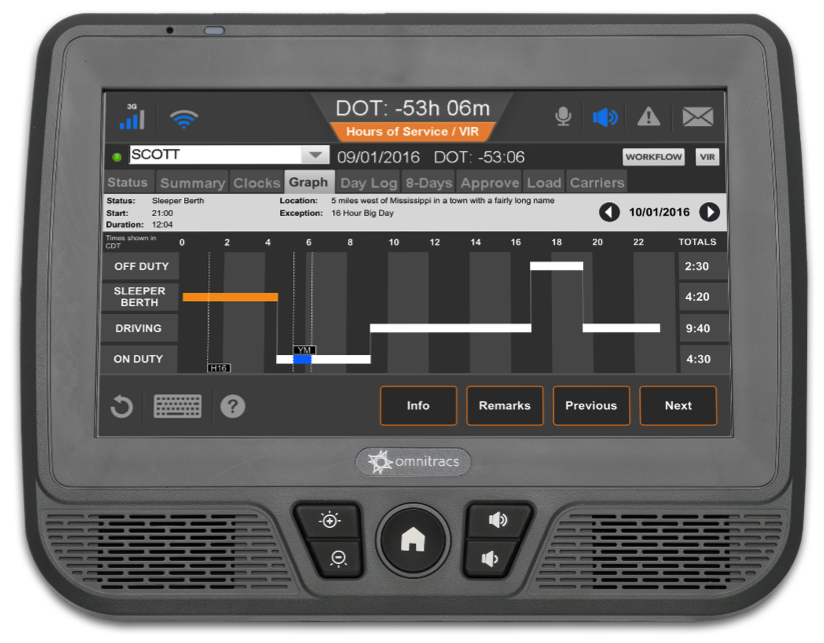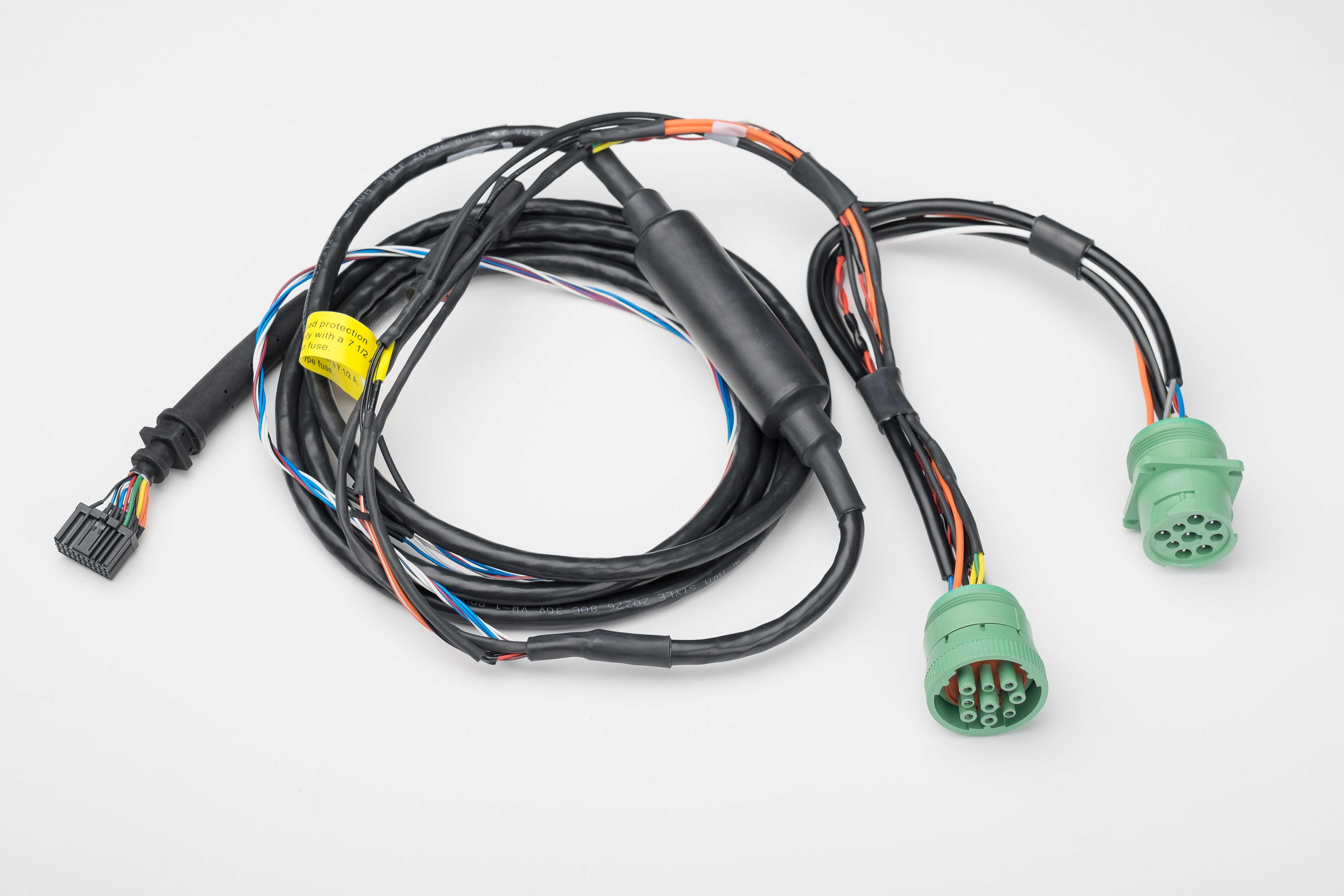 Features
100% Compliant FMCSA HOS ELD
Improve CSA Scores | Reduce Fines
Driver Vehicle Inspection Reporting (DVIR)
2-Way Messaging
Performance Monitoring
Product Description
The Omnitracs IVG (Intelligent Vehicle Gateway) delivers affordable enterprise grade solutions to fleets of any size. The IVG is a single, fixed screen that is mounted to the dashboard and connects directly to the truck's ECM. It does not require Bluetooth. The IVG is designed to deliver cutting edge solutions in HOS compliance, GPS tracking, and fleet optimization to a single, easy to use screen.
Efficient Fleets is proud to be an Omnitracs Authorized Dealer. We offer a complete set of services for the Omnitracs IVG including sales, service, setup, and training.
Please contact us today to learn more or to setup a free demo.
Major Features
FMCSA Compliant HOS Electronic Logbooks
Automated Fuel Tax Reporting
Real Time GPS Tracking
No Bluetooth Required
2-Way Messaging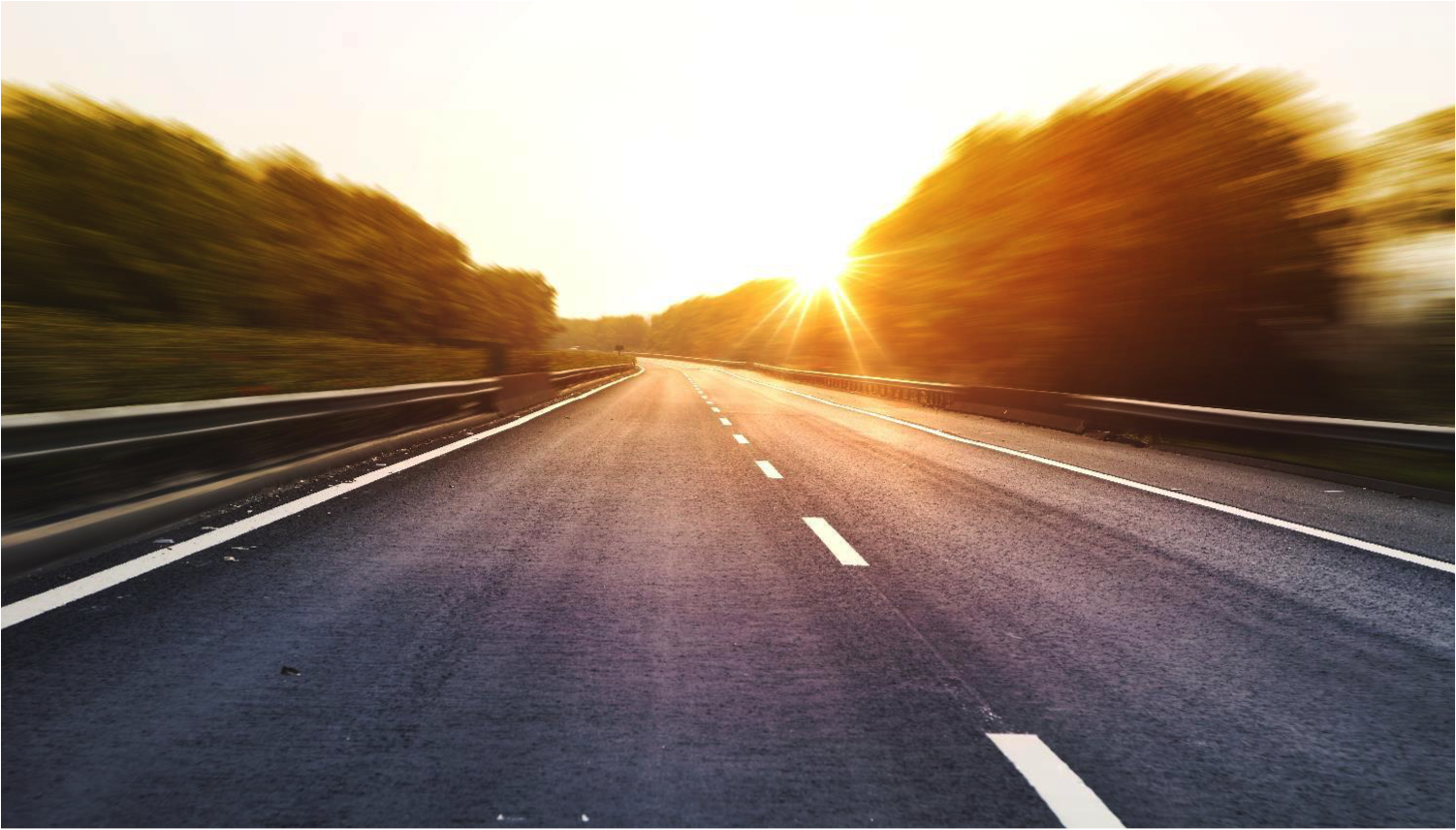 HOS Electronic Logging Device (ELD)
Track driver hours and automatically record driver logs in near real time.
Fully compliant with FMCSA ELD Mandate
Reduce risk of violations and cost of fines
Automatically notifies drivers and dispatchers of impending actual violations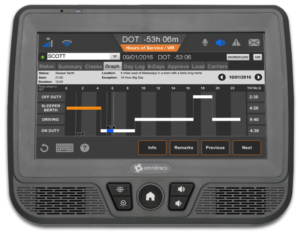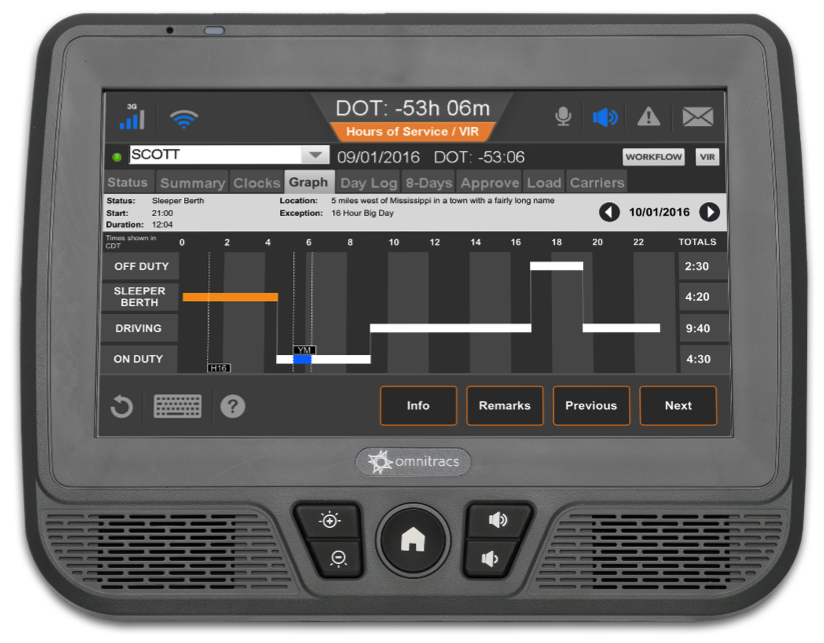 State Mileage Report
Omnitracs makes complying with fuel tax reporting (IFTA) simple. The easy to use State Mileage Report automatically calculates how many miles each truck drives in every state.
Reduce audit exposure
Automatically calculates state-by-state mileage
Save time and money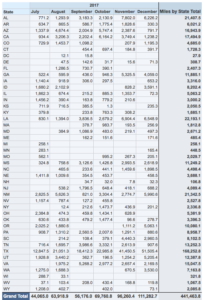 Performance Monitoring
Fuel consumption directly impacts your fleet's bottom line. The IVG monitors driver behavior such as speeding, idling, time in top gear, time in cruise control, and over-revving. All of these activities can have a huge impact on fuel consumption.
Easy-to-Use Performance Monitoring dashboard
Easily identify your best performing drivers
Lower fuel consumption by identifying trends
Provides the data you need to reward and coach drivers
Driver Vehicle Inspection Reporting (DVIR)
Simple, easy-to-use process to complete vehicle inspection reports.
Reduce errors and increase accuracy
DVIR completed on IVG
Meets filing requirements for 396.11
QTRACS
Monitor your vehicles, drivers, and site locations in near real time with QTracs.
Quickly locate vehicles on an easy-to-use map
View breadcrumb or last known location
Send and receive messages from drivers
Locate vehicles near customer sites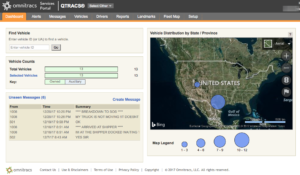 Critical Event Reporting
Managing driver safety is critical to running a successful trucking business. The IVG makes it easy to make sure your drivers are safe behind the wheel. The IVG monitors important safety events such as hard braking and over speeding.
Monitor safety critical events such as hard braking, roll stability, lane departures, forward collision warnings, following time violations, over speeding, and driver initiated alerts
Send near real time alerts to safety and fleet manager
Macros
Improve efficiency by using macros or custom forms to capture and communicate critical information, such as arrival and departure times, proof of delivery, and on-the-spot invoicing.
Reduce paperwork
Easy to create custom forms
Navigation
The IVG comes preloaded with the ALK CoPilot Truck Navigation application. Your drivers will have at their finger tips a true truck navigation system.
Safe, accurate, and truck-legal turn-by-turn navigation
Reduce out-of-route mileage
Save time and fuel
Up-to-date maps of the U.S. and Canada
Audible turn-by-turn directions
About Omnitracs:
Omnitracs, LLC is a global pioneer of fleet management, routing and predictive analytics solutions for private and for-hire fleets. Omnitracs' nearly 1,000 employees deliver software-as-a-service-based solutions to help more than 50,000 private and for-hire fleet customers manage nearly 1,500,000 mobile assets in more than 70 countries. The company pioneered the use of commercial vehicle telematics over 25 years ago and serves today as a powerhouse of innovative, intuitive technologies. Omnitracs transforms the transportation industry through technology and insight, featuring best-in-class solutions for compliance, safety and security, productivity, telematics and tracking, transportation management (TMS), planning and delivery, data and analytics, and professional services.
Efficient Fleets is proud to be an Omnitracs Authorized Dealer. We offer a complete set of services for the Omnitracs IVG including sales, service, setup, and training.

For More Information
If you have any questions please fill out the form on our Contact page and we will respond within 24 hours. For immediate attention please call us at 888.777.4510.