How to Setup a Report Subscription
Setup a report subscription to automatically receive a report by email. You can choose a daily, weekly, or monthly schedule. The report can be sent as a PDF, Excel, and other popular formats.
Follow the steps below to setup a report subscription.
Note: Click on screen shots to enlarge.
1. From the Dashboard…click Reports tab.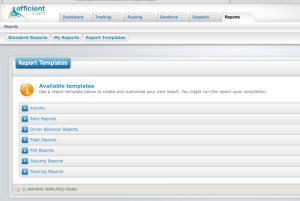 2. Click My Reports

3. Click on the category for the report you want to subscribe to.

4. Click the Clock icon next to the report you want to subscribe to. The Report Subscription setup form should appear.

5. Complete the form.
Enter email address into the Email To text box.
Enter an email subject into the Email Subject text box.
Select a language from the Report Language dropdown menu (Default is English).
Select a format from the Report File Format dropdown menu (Default is PDF).
Select a send time from the Report Send Time calendar (Default is midnight).
Select the report frequency from the Report Frequency dropdown menu (Default is Monthly).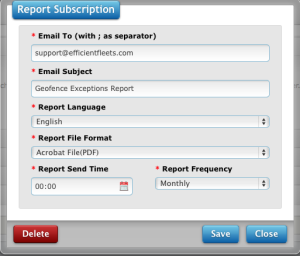 6. Click Save. You will now go back to the My Reports screen.

How to Confirm Subscription Settings
1. Click on My Reports

2. Click on the report category. You should see the subscription settings underneath the report name.