Frequently Asked Questions
What is GPS Tracking?
GPS tracking is an automated vehicle location system. It allows you to quickly locate an item, such as a vehicle, trailer, front loader or any other heavy equipment. A GPS receiver is installed on the asset. It sends important information, such as location, date and time, speed, and direction to a computer server via wireless communication. This data is then displayed on a website with a digital map.
The wireless communication is provided by either Verizon, AT&T, T-Mobile, or Sprint.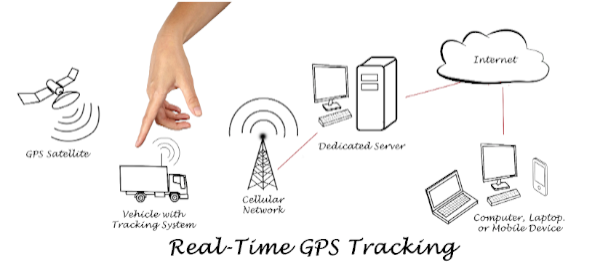 Does the Milo GPS Tracking System Require a Monthly Subscription?
Yes, it does. The monthly subscription starts at $16.00 per vehicle. Please click here to see everything that is included.
For trailer and equipment tracking the monthly subscription starts at $7.00 per item for 3 location updates per day.
Can I Track Just One Vehicle or Trailer?
Yes. We accept clients with fleets of any size. There is no minimum with us. You get the same great service no matter what.
Can I Track My Vehicles and Equipment From My Smart Phone?
Yes, you can. Every customer has access to the easy to use Mobile Viewer. It works on any iPhone, Android or Windows Mobile device. Please click here to learn more.
There is no app to download. To use the Mobile Viewer all you have to do is use the web browser on your smart phone. Click here to watch a short YouTube video on how it works.
How Often Does the GPS Tracking Update the Vehicle's Location?
The GPS tracking device updates the vehicle location that you see on the map every 60 seconds while the ignition is on. The GPS trackers also updates every time the ignition is turned on and off, after every left or right turn, and when the engine is idling. Engine idling is defined as the ignition is on but the vehicle is not moving.
We offer more frequent updates if necessary. Please contact us for more information.
Is the Milo GPS Tracking System Good for Theft Recovery?
Yes, it is an excellent option for recovering a stolen vehicle or piece of equipment. The real time updates allow you to quickly locate the asset. You will have all the information you need to recover the asset as quickly as possible. You will get the address with the city, state, and zip code as well as the latitude and longitude coordinates.
All of this information is displayed on an easy to use Google Map. You get satellite imagery, Google Traffic, and Google Street View.
What are the Contract Terms?
Our standard $16 per month subscription is a month-to-month agreement. You can cancel at any time. You own the GPS tracker.
We do have HaaS (hardware as a service) model and rent-to-own options. Please contact us to learn more.
Do the Video Cameras Require a Monthly Subscription?
Can the Video Cameras Capture Texting While Driving?
Yes, the video cameras are an excellent option for capturing texting while driving. All of our cameras record in HD so you will be able to clearly see what the driver is doing.
For More Information
If you have any questions please fill out the form on our Contact page and we will respond within 24 hours. For immediate attention please call us at 888.777.4510.