Stolen Vehicle
I was speaking to a customer the other day about their GPS tracking system and he told me an interesting story. He said that he had a stolen vehicle recovered because of his GPS tracking system. As a matter of fact he had two stolen vehicles recovered and almost one more. The third one had been stolen from a mechanics shop. It was not discovered for more than a week. The last location showed the vehicle or GPS unit (it had a backup battery) at what appeared to be a chop shop on a seedy side of town.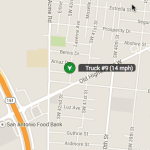 Milo Fleet Management System
When the customer discovered the vehicle had been stolen he immediately logged into the Milo Fleet Management System. He was able to quickly locate the vehicle. He immediately called the San Antonio Police Department. Police were soon following the vehicle and it was recovered without incident.
Remain Efficient
By recovering the vehicle so quickly the customer saved potential damage to the vehicle and prevented a possible increase in insurance premiums. Not to mention any possible injuries that could have occurred in an accident.
The quick recovery allowed the customer to remain productive. He was not spending his time dealing with insurance, securing a new vehicle, or upset customers. The business kept going and his customers were not affected.
In conclusion, the Milo Fleet Management System allowed our customer to quickly recover two stolen vehicles. The GPS system saved our customer both time and money. I think this story is a great example of the power of GPS tracking.
Thank-you for visiting our blog!
Michael Goldberg
President, Efficient Fleets
Efficient Fleets is a logistics company that uses GPS tracking and mapping to make your fleet safer, more efficient, and less expensive. For more information please contact us.