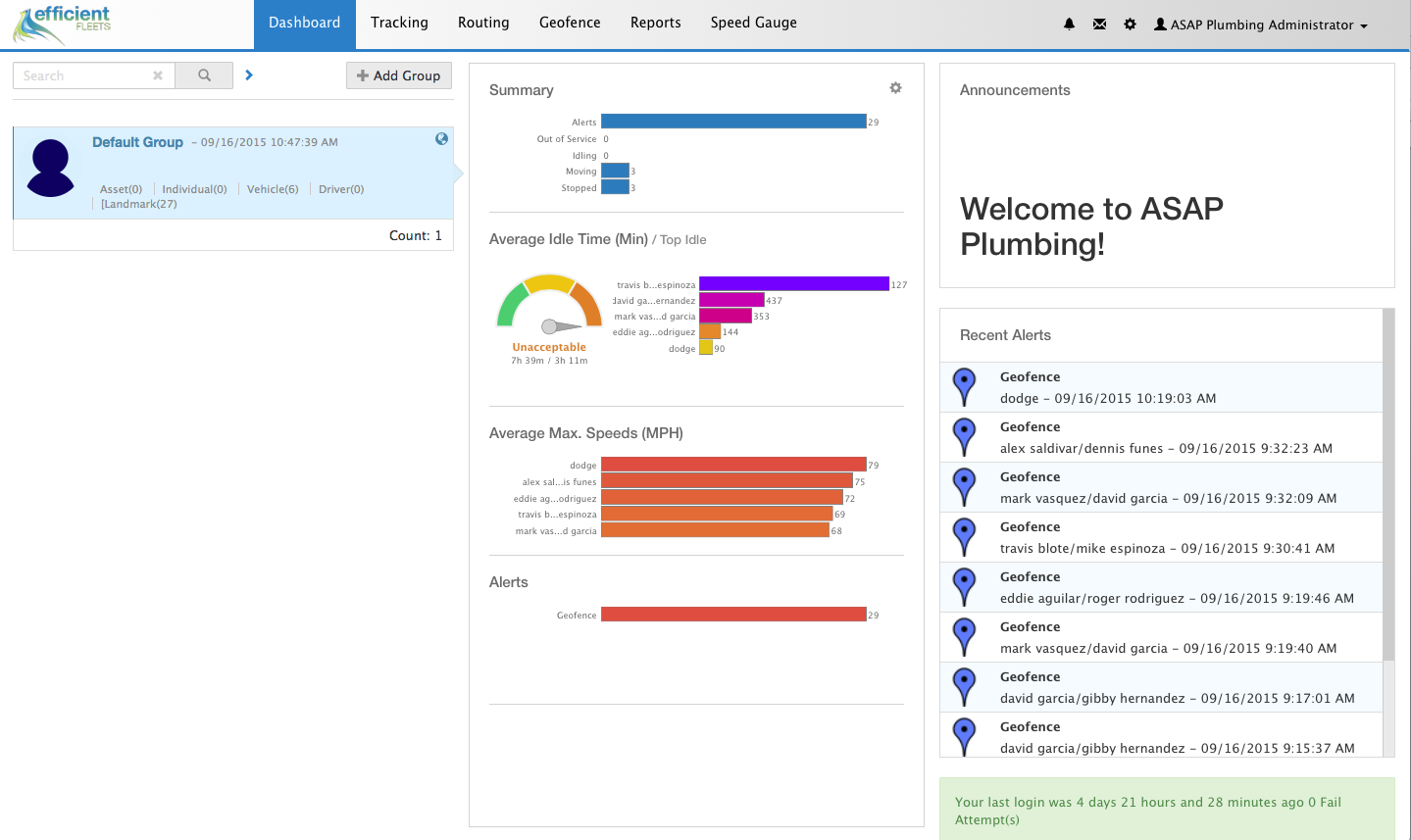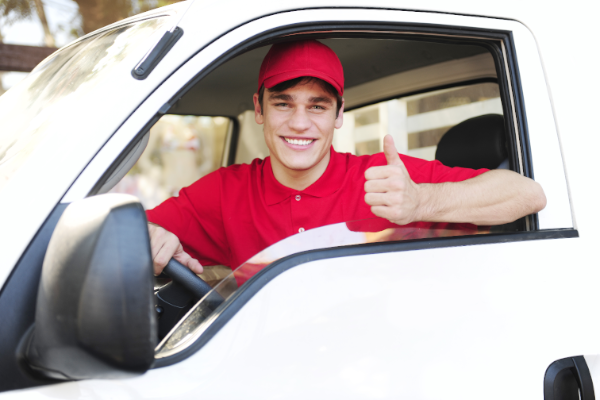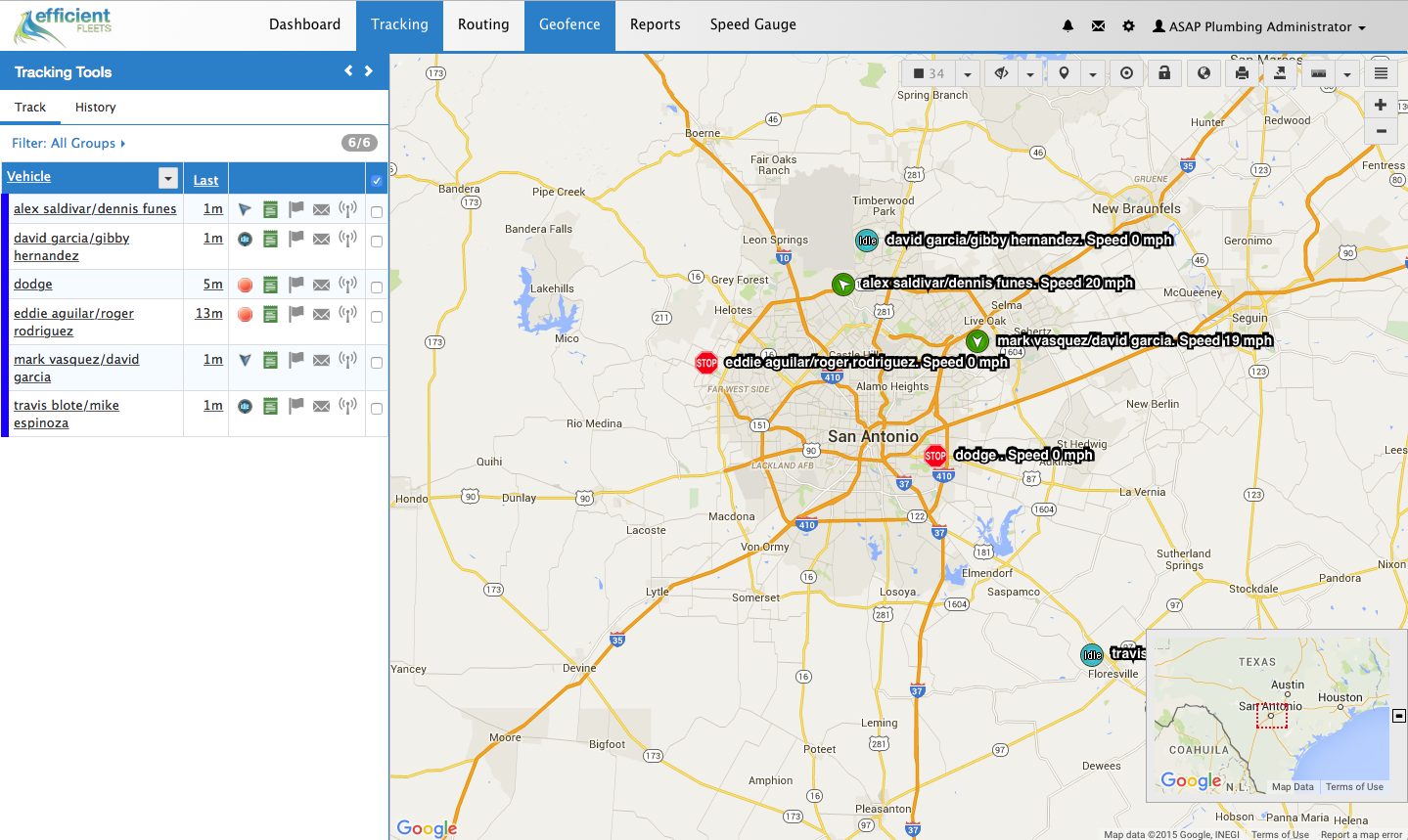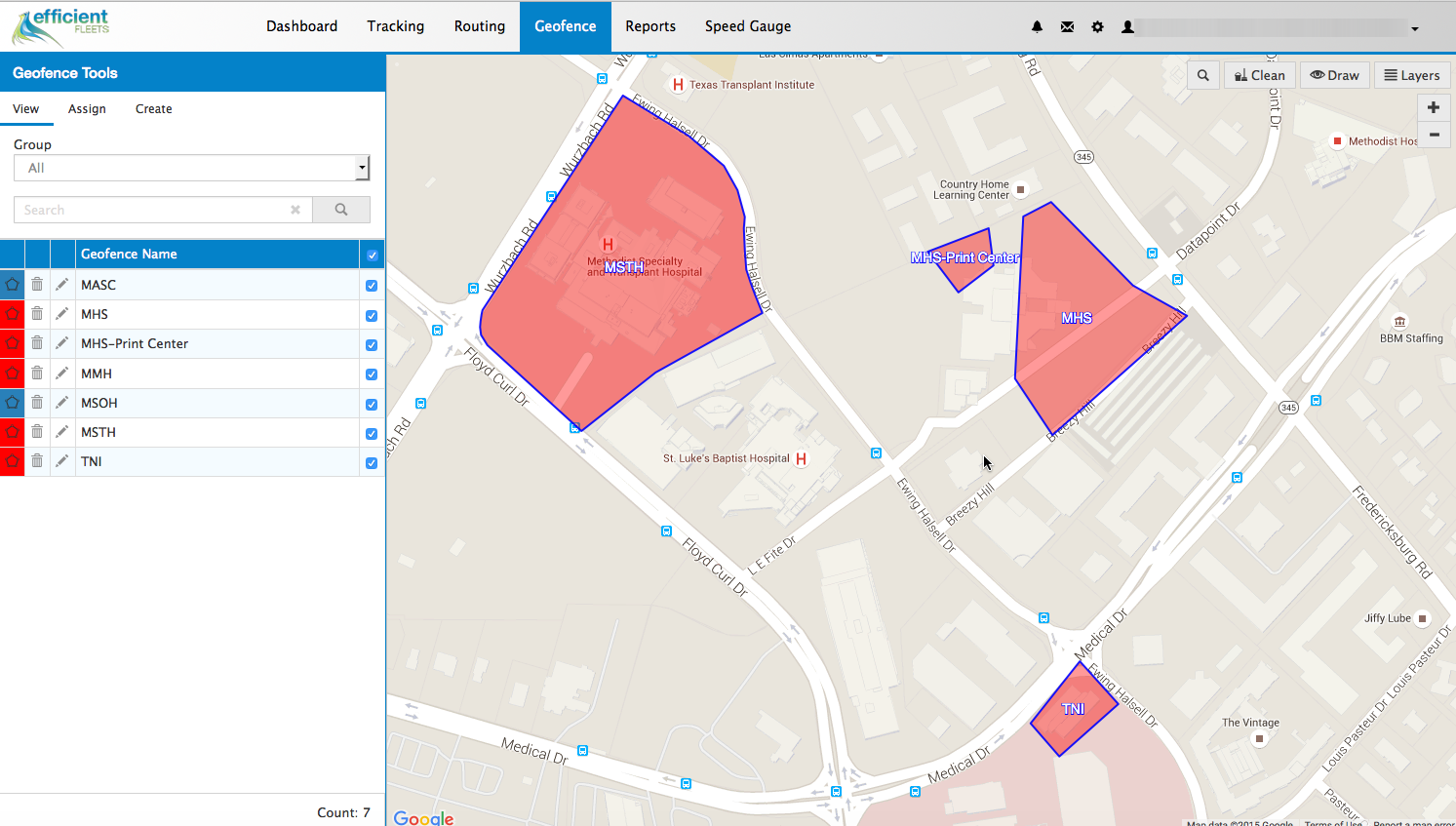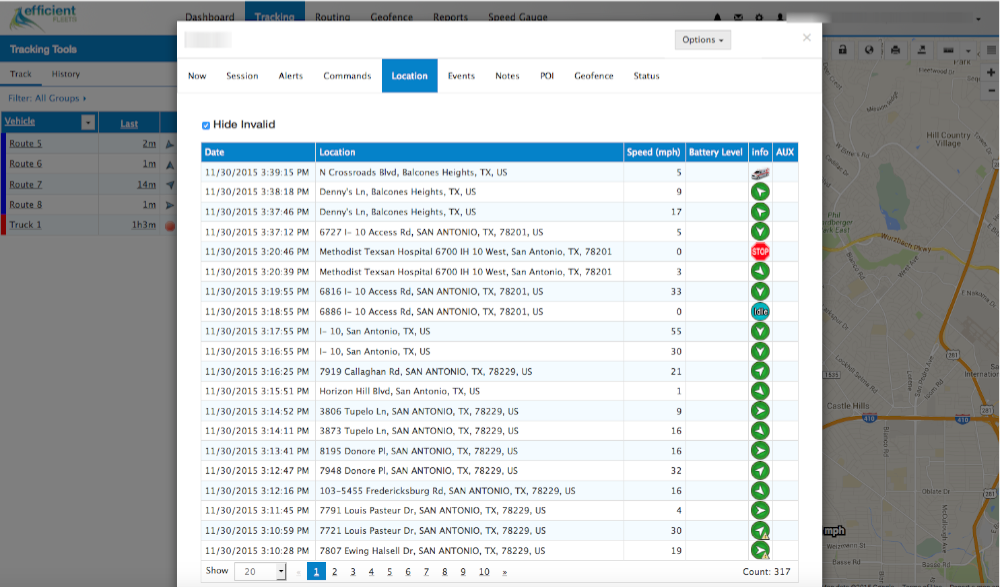 Features
100% Accurate Real Time GPS Tracking
GPS Updates Every 60 Seconds | E-mail and Text Message Alerts
Prevent Side Jobs and Personal Errands
Easily Locate Your Vehicles on Any SmartPhone or Tablet
No Activation Fees | No Long Term Contracts
Product Description
The Milo GPS tracking system from Efficient Fleets is designed to give you control over your vehicles and equipment. With an easy-to-use website and Mobile Viewer you can manage your fleet from anywhere in the world. Quickly locate your vehicles and equipment to help you improve customer service, increase revenue, and reduce expenses.
Major Features
Track Vehicles And Equipment On Google Maps
Monitor From Any Smart Phone or Tablet
Receive Automated Alerts
Create Unlimited Landmarks And Geofences
Manage Preventive Maintenance Tasks
Mobile Viewer
You can track your vehicles and equipment on your smart phone or tablet with the Milo Mobile Viewer. The Mobile Viewer works with any iPhone or Android device.
Track Vehicles and Equipment From Your Smart Phone
Review Vital Information, Such As Alerts and Stops
Monitor From Any iPhone, iPad, or Android Device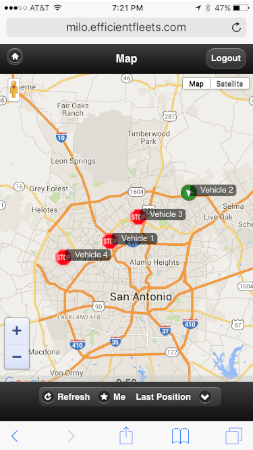 Landmarks
Create landmarks for frequently visited stops, such as customer locations, to ensure on time arrival and to improve customer service.
Create Unlimited Landmarks
Automatically Record When Item Enters and Exits a Landmark
Import Landmarks From an Excel Spreadsheet
Routing
With the built in routing feature you will be able to quickly locate which vehicle or asset is closest to an address, a customer location, or other feature. Save time and money by dispatching the closest driver without having to call each one.
Display a List of the Closest Vehicle Order By Distance
Reduce Time Spent Looking for the Closest Driver
Search for Closest Vehicle by Address, Landmark, Geofence, or Coordinates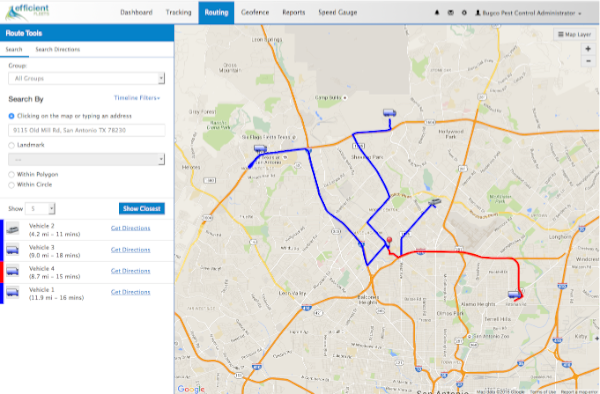 Workflow Job Scheduler
Improve efficiency and operations by automatically assigning jobs and routes to your vehicles. Workflow is the Milo GPS tracking system automated job and route schedule module. It is an add on feature to Milo GPS. Please contact your Efficient Fleets representative to add it to your account.
Automatically Send Jobs and Routes to Garmin Navigator
Create Jobs From Address, Geofence, or Landmark
Send and Receive 2-Way Messages Between Dispatch and Driver
Driver
Create a driver profile to better manage safety an accountability.
Manage Driver Data, Such as Contact Information, License Expiration Date
Automatically Assign Drivers to a Vehicle With Optional Driver ID System
Data Integration
The Milo GPS tracking system is fully capable of integrating with 3rd party databases. A full suite of web services is available to make integration seamless.
Integration ID Field Available to Link Vehicles and Assets to Other Database Systems.
Web Services Available to Integrate GPS Data with Other Systems.
Alerts
Control activity by setting up alerts for a variety of actions. Alerts allow you to mark events, such as speeding, excessive idling, and geofence violations. Below is a complete list of the alerts that are available in Milo GPS tracking.
Receive Alerts By Text Message Or Email
Engine Idling
Geofence Violation
Geofence Speed, Time In, Time Out
Hard Braking
Hard Turning
Ignition On/Off
Landmark Visit
Rapid Acceleration
Speeding
Stop
Temperature Over And Under
Towing
Unauthorized Use
Geofence
Easily track when vehicles and equipment enter user specified zones or geofences.
Create Unlimited Circle, Polygon, and Route Geofences
Automatically Record Date and Time of Entrance and Exit
Schedule Geofence Activity by Date and Time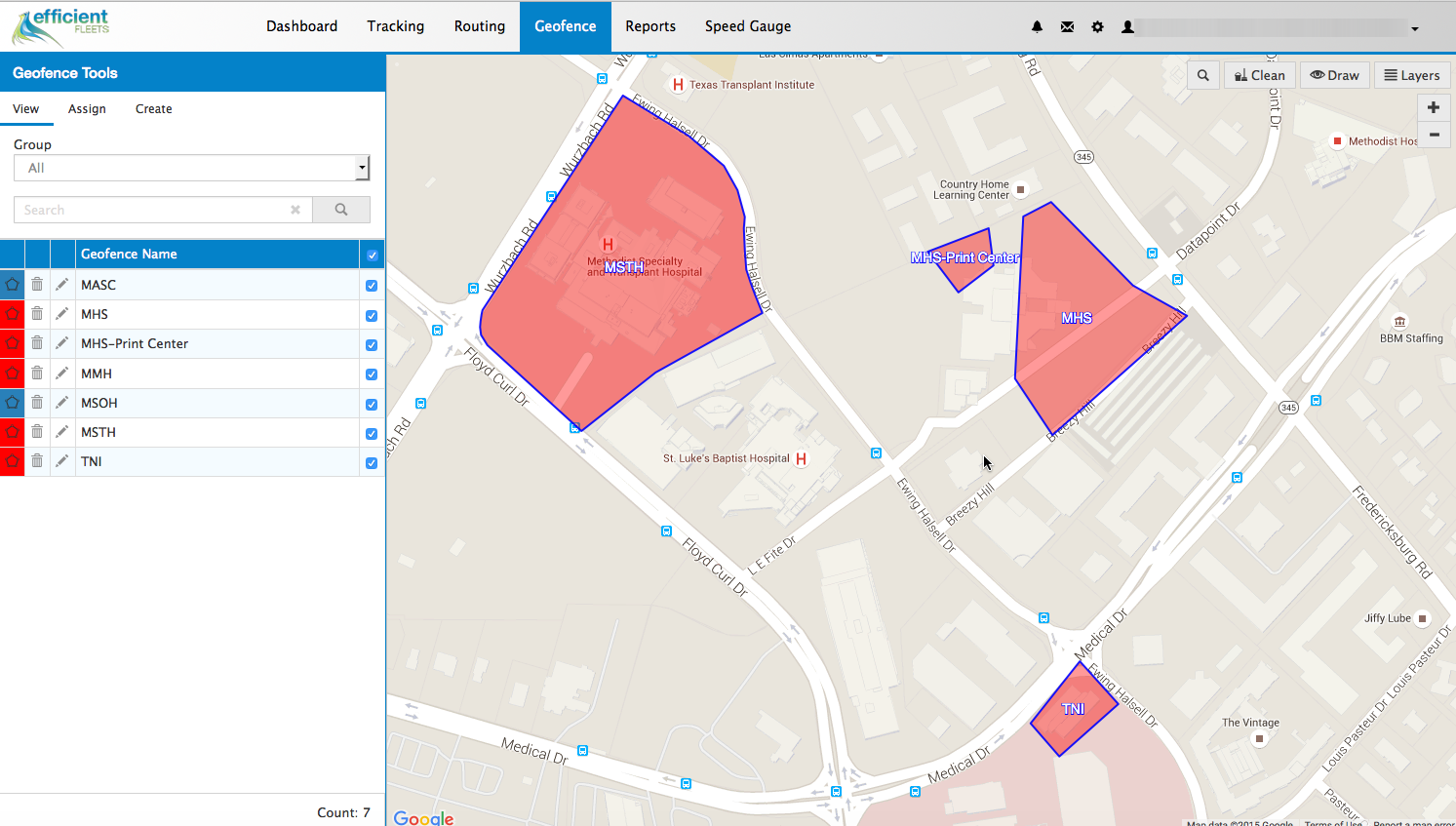 GPS Tracking
Quickly locate your vehicles, equipment, and drivers in real time on an easy-to-use Google Map.
Track Your Fleet On Google Maps With Google Street View, and Satellite Imagery
Status (Moving, Idling, or Stopped) Icons Update Automatically
Find Closest Vehicle or Asset To An Address or Latitude/longitude Coordinate
Large, Easy-to-Read Map For Real Time Dispatching
Search And Playback For Historical Routes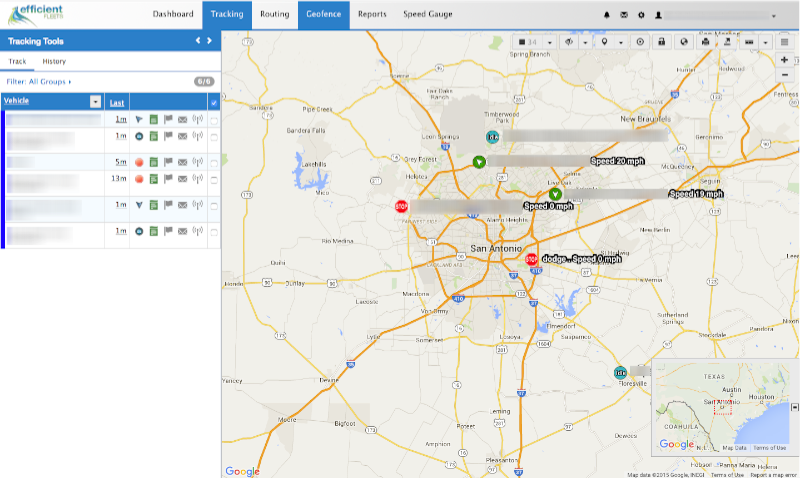 Google Traffic
Monitor traffic in real time with the Google Traffic layer. You can easily verify traffic conditions at any time.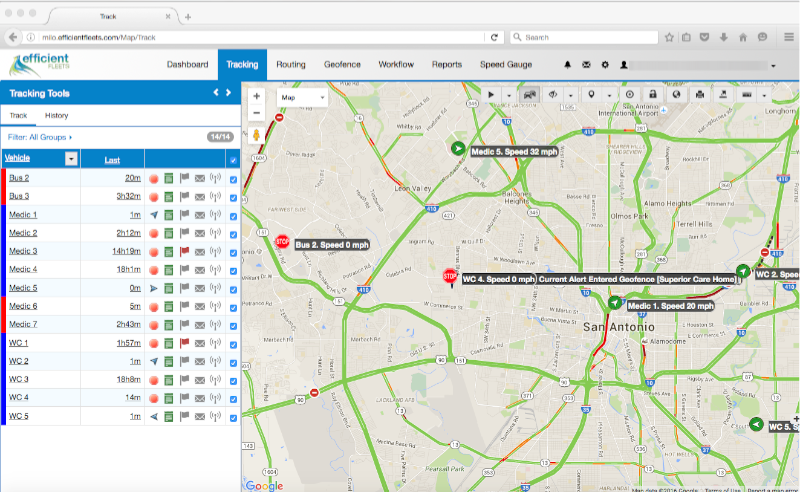 Preventive Maintenance
Proper preventive maintenance on vehicles and equipment is important for the bottom line. It can save you money on fuel and costly repairs. The Milo GPS system comes with a powerful, easy-to-use set of preventive maintenance tools.
Setup reminders to receive alerts when important maintenance is due. It can be tracked by miles, engine hours, or dates. Once the maintenance is completed you can enter the service record to have a complete set of records for the entire fleet.
Receive Email Reminders When Maintenance Is Due
Create Maintenance Tasks For Any Type of Operation
Setup Reminders by Date, Mileage, or Engine Hours
Record Completed Maintenance Operations
Reports
Milo GPS contains a powerful suite of reports to help you gain better insight into your daily activities.
20+ Reports
Schedule Report to be Delivered to Your Email
Export Reports to PDF, Excel, HTML, TXT, CSV, and PNG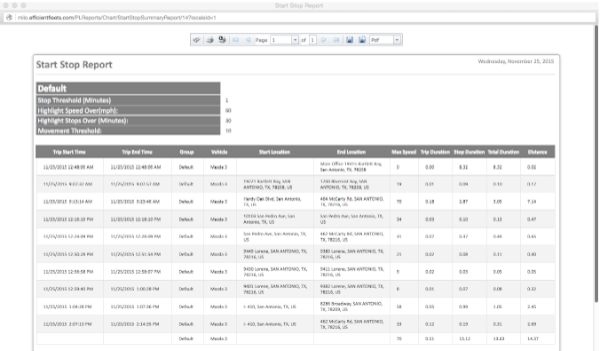 Report List
This is a complete list of reports available in the Milo GPS tracking system.
Alert Report: list of alerts that have occurred by date, group, and item
Speed Alert Report:  list of speed alerts by date, vehicle, group, and driver
Daily Mileage Report: mileage by day.
Vehicle/Driver Assignment Report: list of vehicle-driver assignments by date, vehicle, group, and driver
Driver Activity Summary Report: summary of daily driver activity, such as average speed, max speed, distance, and fuel usage
Fleet Productivity Report: daily summary of the actual hours a vehicle operated and the average hours worked per day
Scheduled Maintenance Report: display when a vehicle's maintenance is due based on a mileage threshold
Fleet Vehicle Utilization Report: view the amount of usage for each vehicle within the entire fleet by distance
Mileage by State: daily vehicle mileage by state
Landmark Entry & Exit Report: shows when a vehicle or asset entered or exited a landmark
Landmark Status Report: show when the status of a POI has changed
User Login History Report: list of users who have logged into the system by date/time and length
Detailed Activity Report: complete list of all the locations of a vehicle or asset with speed, location, status (moving, idle, stopped), distance, and temperature (requires temperature sensor)
Trip Report: list of trips with summarized with idling, distance, movement, and stop times.
Start/Stop Summary Report: trips summarized by start/stop times and locations, max speed, distance, and trip and stop duration
Device Detail Tracking Report: detailed list of all vehicle or asset locations similar to the Detailed Activity Report, but with alert information for each location
Premium GPS Trackng
Best Value
Workflow Job Scheduler
GPS Updates Every 60 Seconds
Includes Mobile Viewer For Smart Phone and Tablets
22 Reports Available
Great For
Plumbers
Trucking
Ambulances
Pest Control
Irrigation
Standard GPS Tracking
GPS Updates Every 60 Seconds
Includes Mobile Viewer For Smart Phone And Tablets
22 Reports Available
Vehicle Tracking History
Speed And Address For Every GPS Update
View All Stops Including Arrival and Departure Time
Great For
Vehicle Tracking
Employee Tracking
Teen Tracking
For More Information
If you have any questions please fill out the form on our Contact page and we will respond within 24 hours. For immediate attention please call us at 888.777.4510.