Buco Freight Lines Wins with an Omnitracs IVG ELD
When Ray Butler, the owner of Buco Freight Lines, LLC, started his trucking company he decided that he wanted to have an Omnitracs IVG ELD. He specifically chose the IVG (Intelligent Vehicle Gateway). He picked the IVG because it was easy to use and provided powerful features that would help his company grow.
Ray has big dreams to grow his company. He knows that to be successful he needs to have a solid foundation. That is why he chose an Omnitracs IVG ELD for his first truck. The IVG will give him easy-to-use tools to be compliant with the ELD Mandate and HOS. It also gives him GPS tracking, 2 way messaging, on board navigation, dispatch integration, plus much more.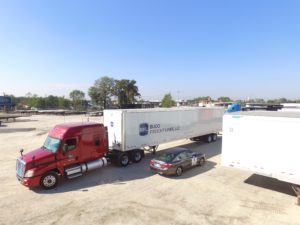 Omnitracs IVG ELD Is Easy-to-Use
Currently Ray has only one truck, but the IVG was an affordable solution that made sense for complying with the ELD Mandate. Everything he needs is available in one unit. He does not have to worry about Bluetooth devices or tablets. All he had to do was plug the cable into the truck's ECM and mount the screen to the dashboard. It's that easy.
Omnitracs IVG ELD Is Affordable
The Omnitracs IVG ELD is a great and affordable solution for small fleets. Many small fleets think the IVG is too expensive. However, if they take a look at the overall cost of ownership they will find the IVG is very competitive with many of the tablet based ELD solutions.
At Efficient Fleets we offer a variety of way to make the IVG affordable and easy to get. We offer purchase and lease-to-own options. A 5 year lease-to-own option starts around $18.50 per month.
If you want more info please contact us today. We offer free no obligation demos and can provide a custom quote for fleets of any size.
About Efficient Fleets
Efficient Fleets is a premier telematics provider based in San Antonio, TX. We are an authorized Omnitracs dealer. Please contact us at 888-777-4510 and ask for Michael if you have any questions. We provide a variety of solutions to the trucking industry including GPS tracking for trucks and trailers, ELDs, tire pressure monitoring, and in cab video cameras.