Setting up a speed alert is very easy to do. This is one of the most important tasks for improving the safety of your fleet and reducing fuel costs. Please follow the steps below to setup a speed alert in the Fleet Management System.
An alert can be created for an entire group or just an individual item. The steps below will show you how to create one for an entire group.
1. From the Dashboard click on the Group name where you want to setup the alert. You should now see the Group Editor.

2. Click on Setup Alerts.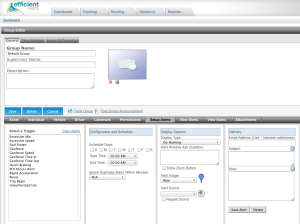 3. Click on Excessive Speed to select the speeding alert for configuration.

4. Set the Speed Threshold in MPH and the alert schedule. When a vehicle goes above the threshold an alert will be recorded. The schedule allows you to control when alerts can be triggered. The example in the picture sets the schedule for 24 hours per day, 7 days a week.

5. Select Show Message Icon from Display Type drop down menu. This will display a special icon on the map where the speeding alert occurred. Choose the icon you want from the Alert Image drop down menu.

6. As an option you can have the alert sent to your email or mobile phone. Enter the email address or the phone number in the Email Address box.  To send the alert to your phone as a text message please see this blog post.
7. Click on Save Alert.
Now your alert is ready to go. If a vehicle or asset goes above the speed threshold you set in step 4 an alert will be recorded. If you set  up an email address or phone number that alert will be delivered to you. You can also see all the recorded alerts in the Alert reports, on the Tracking map, and on the Dashboard.