Setting up a preventative maintenance schedule is a great way to help automate some of the routine tasks necessary in running an efficient fleet. The Fleet Management System provides an easy way to setup a maintenance schedule for all of your items. You can setup schedules for vehicles and powered equipment, such as generators and light towers.
1. From the Dashboard, click on the Vehicle link.
2. Click on the pencil next to a vehicle that you want to create a schedule for.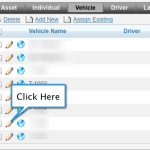 3. Click on Maintenance Schedule tab.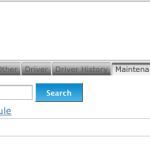 4. Click on Add New Maintenance Schedule.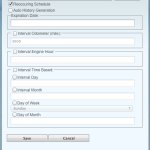 5. Select the Operation from the drop down menu.
6. Click on Reoccurring Schedule checkbox if you want the schedule to run continuously based on the schedule selected.
7. Select how you want the schedule to be triggered. For example, by odometer, engine hours or time interval. For example, if you want to be reminded every 3,000 miles then select the Interval Odometer checkbox and enter 3,000 into the text box.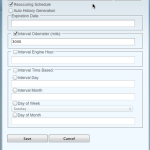 8. Click on Save.
Now you have a new maintenance schedule assigned to this vehicle. You can create as many maintenance schedules as you need for every vehicle.
Next Step: Setup a Maintenance Reminder to receive an email reminder.