What is the Garmin Dispatch?
The Garmin dispatch is an optional add on to the Milo GPS tracking system. The Dispatch system allows a dispatcher (or anyone else) to send and receive messages to any vehicle that has a Garmin navigator attached to their GPS tracking device. You can also send stops and routes to the driver.
Note: not all Garmin navigators are supported. Click here to see a list of Garmin navigators that are supported by the Milo GPS tracking system.
Garmin Dispatch Tips
The list below is a helpful set of tips and tricks that we have compiled on how to operate and troubleshoot the Garmin Dispatch.
1. Make sure the vehicle is on when sending a message or a route to the vehicle from the tracking website. The vehicle does not have to be running. The key can be in the "on" position.
2. Disconnect Icon on Garmin Screen. If the driver sees the disconnect icon in the top left corner of the Garmin screen then the GPS tracker and the Garmin are not communicating. Turn the vehicle's ignition off for at least 10 seconds. Then turn the ignition on. This will reset the GPS unit and should reestablish connection between the Garmin and the GPS tracker.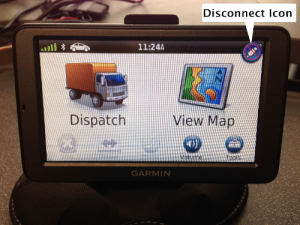 3. Blank Garmin Screen. Sometimes the Garmin does not turn on automatically. Press and hold the button on the top left corner of the Garmin to turn it on.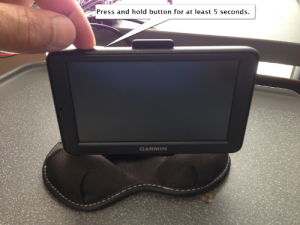 Efficient Fleets
We are a GPS tracking company that makes your vehicles safer, more efficient, and less expensive. To learn more about how GPS tracking can prevent side jobs and improve customer service please contact us for a free demo.